Some of the top taiko instructors will be teaching daily workshops during the Taiko CrossRoads intensive week in Iida City, Japan.
*Listed alphabetically by first name.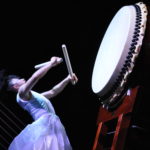 Akemi Jige
Akemi Jige is the founding member and principal performer of Honoo Daiko (Produced by Asano Taiko Ltd).  Honoo Daiko was created in 1986 and is renowned as the worlds leading all-women's taiko drumming group.  Akemi Jige has toured extensively in Japan, France, Holland and many other countries throughout Europe and North America.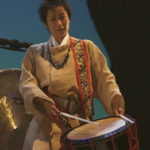 Awa
Awa (formerly Chabo) is well-known as the energetic former principal performer, composer and leader of Shidara.  Her enthralling compositions, including the legendary piece "Niebuchi" secured the groups First Place win at the 1st Tokyo International Wadaiko Contest.  She subsequently led the group to tour throughout the world and become of the most visually enthralling performance ensembles in Japan.  In 2015, Awa retired from Shidara and moved to Urugi, where she has released two solo albums.  She is active in teaching taiko to children in Urugi.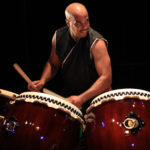 Art Lee
Art Lee is the only non-Japanese person to win First Place at the Tokyo International Taiko Contest.  In 2001, Art Lee received international acclaim for becoming the first person in the world to be awarded an unsponsored artist visa from the Japanese government to teach Taiko and lead the life of a professional Taiko artist in Japan.  He is the founding member and principal performer of Wadaiko Tokara.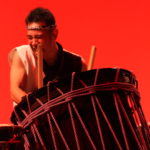 Kuniharu Hara
Kuniharu Hara is the former principal performer and drum builder in Osuwa Daiko.  As a member of Osuwa Daiko and as a member of Daihachi Oguchi's elite group, Ashura Gumi, Kunihara performed throughout Japan and abroad, including the Rhythmsticks Festival in London.  In 2005, Kuniharu formed his own taiko shop, as well as becoming a solo performer.  Together with former members of Osuwa Daiko, Kuniharu formed his own taiko unit, Tenku.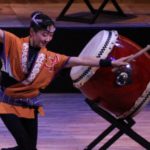 Mizuho Zako
Mizuho Zako is a professional member of the Group Oedo Sukeroku Taiko (Tokyo,Japan), one of the pioneers of modern wadaiko music lead by Grandmaster Seido Kobayashi.  During her 25 years of taiko experience Mizuho has been active in the creation of new taiko pieces, which she combines with traditional Japanese dance and classical ballet.  She leads regular workshops for individuals and groups of up to 100 people at Oedo Sukeroku Taiko dojo in the heart of Tokyo.
**Workshop instructors and/or other program information for this workshop is subject to change. Any such changes will be sent to registered participants